2018@Bangkok
The 1st CCESG was held at Asian Institute of Technology, Bangkok, Thailand successfully during Feb. 24-26, 2018.
Keynote Lectures
Speakers: Prof. Dr. Halim Bin Abu Bakar/Prof. Nao-Aki Noda/Prof. Hee-Je Kim/Prof. Juntao Fei/Prof. Dr. Jesus Toribio
Oral Presentation

*Only selected a few photos to be shown.
Best Paper(SG002)
Prof. Ning MEI---Marine Engineering, Ocean University of China, Qingdao, China
"An Experimental Investigation of Performance Characteristics of an Energy-efficient Air Conditioning in vehicle"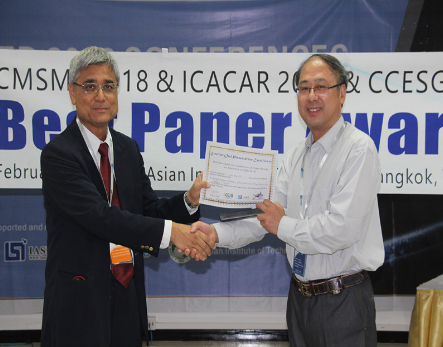 Best Student Paper(SG004)
Amirul H Wibowo---Institut Teknologi Sepuluh Nopember Surabaya, Indonesia
"Design and Implementation of Seawater Eco Distillatory Using Parabolic Solar Concentrator and Photovoltaic Pump for Isolated Island"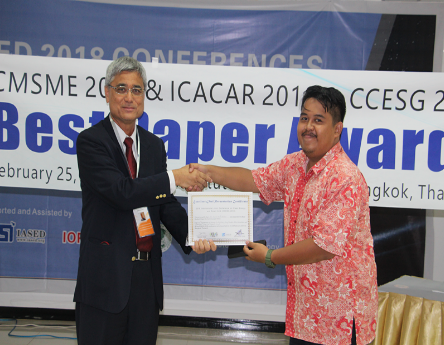 Poster Presentation

*Only selected a few photos to be shown.
Lab Tour & One Day Tour

*Only selected a few photos to be shown.
Others

*Only selected a few photos to be shown.
Best Reviewer
Prof. Monica SIROUX---ICUBE, INSA de Strasbourg, 24 Boulevard de la Victoire, 67084 Strasbourg Cedex, France
Prof. Nidia Caetano---Chemical Engineering Departament Instituto Superior de Engenharia do Porto Rua Dr. António Bernardino de Almeida Porto
Prof.Hartmut Hinz---University of Applied Sciences, Frankfurt in Germany
Dr. Fateh FERROUDJI---Research Unit in Renewable Energy in Saharan Medium (URER-MS), Algeria
Pictures of CCESG 2018.
You can click the link to check all the photos.
http://s1249.photobucket.com/user/Iased2018phtos/library/IASED20180226%20Photo%20Gallery?sort=2&page=1
Organizer
Key Dates
Full Paper Submission: June 5, 2023
Acceptance Notification: June 25, 2023
Registration: July 20, 2023
Main Conference: November 3-5, 2023
Committee
Committee members
| | |
| --- | --- |
| Prof.Eugen Rusu | Prof.Zhixin Wang |
| Prof.Liliana Celia RUSU | Dr.Jaroslaw KRZYWANSKI |
| Prof. Junjian Qi | Prof. Farhad Shahnia |
| Dr. P. Sanjeevikumar | Dr. Chew Kuew Wai |
| Prof.Hartmut Hinz | Dr. Adem Akpinar |
| Dr. Fateh FERROUDJI | Prof.Marco Casini |
| Dr. Hasan AYDOGAN | Dr.Hedayat Omidvar |
Content will be submitted to the indexing databases for indexing. As indexing services are independent organizations, the conference organizer cannot guarantee that any abstract or index entry will be included in any particular database.