Program
Here enclose the brief timetable for your reference.
Please browse it and make your schedule in advance.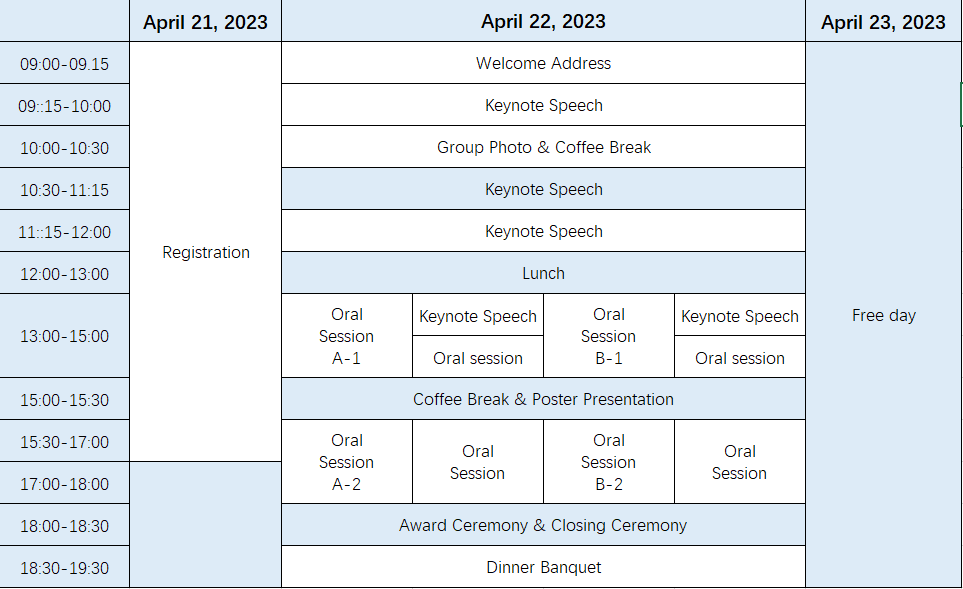 Note:
All the oral presenters are requested to give an oral presentation in English based on their papers. There will be 15 minutes for each presentation (inclusive of Q&A). We will provide laptop and other equipments for the presentation. Presenters should get their PPT/PDF prepared and send it to the conference secretary via e-mail before the conference.
Excellent Presentations Award
One excellent presentation will be selected from each session. The excellent one will be announced when each session ends. The winner will be awarded at the beginning of the Dinner Banquet:
*A signed and stamped official award certificate;
*The announcement of their achievement on a special conference webpage;
*Having the paper included in the list of conference excellent papers and invited for an extended and revised version published in a book or a journal, if a post-publication agreement is available for this particular conference.
Organizer
Key Dates
Full Paper Submission: June 5, 2023
Acceptance Notification: June 25, 2023
Registration: July 20, 2023
Main Conference: November 3-5, 2023
Committee
Committee members
| | |
| --- | --- |
| Prof.Eugen Rusu | Prof.Zhixin Wang |
| Prof.Liliana Celia RUSU | Dr.Jaroslaw KRZYWANSKI |
| Prof. Junjian Qi | Prof. Farhad Shahnia |
| Dr. P. Sanjeevikumar | Dr. Chew Kuew Wai |
| Prof.Hartmut Hinz | Dr. Adem Akpinar |
| Dr. Fateh FERROUDJI | Prof.Marco Casini |
| Dr. Hasan AYDOGAN | Dr.Hedayat Omidvar |
Content will be submitted to the indexing databases for indexing. As indexing services are independent organizations, the conference organizer cannot guarantee that any abstract or index entry will be included in any particular database.